2011 Mercedes-Benz SLS AMG Driving Impressions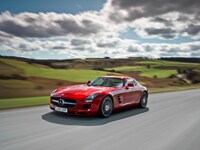 The engine in the SLS is an AMG-developed 6.3-liter V8 with every known technology inside it. The all-aluminum M159 engine, individually hand-built by one man at AMG, uses plasma-sprayed cylinder bores, double overhead cams, four valves per cylinder, variable intake and exhaust valve timing, Bosch digital fuel injection, forged steel crankshaft, forged aluminum pistons, dry sump lubrication with a front-mounted oil tank, twin throttle bodies and velocity stacks, and a high compression ratio of 11.3:1 to generate 563 horsepower and 479 foot-pounds of torque.
The company says that's enough power to accelerate the 3574-pound SLS from 0 to 60 mph in 3.7 seconds, and from 0 to 124 mph in 11.7 seconds. Top speed is electronically limited to 197 mph. Mercedes-Benz says the SLS AMG will generate 1.2g on the skidpad.
The new transmission, with both a floor shifter and steering-wheel paddle shifters, has software that gives it four operating modes. The C or Comfort position on the center console switch gives it second-gear starts and quick upshifts for fuel economy while driving in traffic. The S setting, for Sport, makes it start in first gear, shift at higher rpm, and shift 20 percent quicker, with less throttle input. The S+ or Sport Plus setting speeds up shifts another 20 percent quicker. M or manual mode provides full manual control of shifting and adds another 10 percent faster shifting speed, down to 100 milliseconds.
The dual-clutch system allows full-throttle, full-torque shifting with no interruption in power delivery to the tires, and provides rev-matching throttle blips on downshifts to keep the tires from breaking traction. There is a race-start mode that ties the transmission into the electronic stability program or ESP chassis electronics and allows full-throttle first-gear launches. The final drive system includes a limited-slip differential.
The mid-mounted engine, steering and front suspension systems are all carried on an isolated aluminum subframe. This layout gives the SLS a 47 percent front, 53 percent rear weight distribution. The suspension on all four corners is a racing-style forged aluminum upper and lower arm or double-wishbone system with canted springs and gas-filled aluminum-bodied concentric shock absorbers, with stabilizer bars front and rear, a system designed for massively high cornering speeds and minimal squat and dive on acceleration and deceleration. Steering is variable power rack and pinion with a quick 13.1:1 ratio.
Stopping duties are handled by gigantic 15.4-inch front and 14.2-inch rear ventilated steel-rotor ABS brakes 1.4 inches thick in the front and one inch thick at the rear. Our silver SLS AMG came with the optional gold carbon composite brake calipers. These are the least noisy, least grabby, least temperamental and most powerful high-performance brakes we have ever used, a generation or two better than the noisy, grabby carbon ceramic brakes on the $450,000 SLR McLaren AMG we drove. The optional gold carbon SLS brakes are so powerful that they an change your driving style, allowing you to wait until the last millisecond before squeezing them on or, in a real emergency, stopping shorter than you ever imagined, less than 110 feet from 60 mph to 0, according to Mercedes-AMG.
For road driving, we left all the transmission and chassis controls in their normal Comfort positions, and didn't use the paddle shifters at all, letting the computers figure out the downshifts and upshifts. That left us to concentrate on seeing, throttle, steering and brakes, of which this car has plenty.
The SLS engine is wonderfully loud and sonorous at full throttle. Acceleration through the 7-speed double-clutch automatic is astonishingly quick, pinning you right back against your leather bucket seat. Going into a dark downhill corner in the California coastal mountains, you can concentrate on placing the car through the amazingly connected, quick and accurate steering, and slowing the car just enough with trail braking. The transmission will downshift to exactly the right gear, blipping the throttle between shifts, so that you can fly out of every corner. The more throttle you apply, the louder it gets, all the way up to the engine's 7500-rpm redline.
The tires, 265/35ZR-19s front and 295/30ZR-20s at the rear, provide an amazing connection to the pavement, and they have huge contact patches that generate quite a bit of tire noise, all part of the car's charm.
With each driving session, the SLS grew more familiar, we pushed it harder, and were rewarded accordingly, with absolutely blazing performance without a single sweaty palm on the wheel. The SLS is amazingly easy and comfortable to drive at extralegal speeds, and with the ESP system set to just this side of completely off, there is plenty of latitude to let the tail come out and allow the car to rotate through the tighter corners.