2011 Mercedes-Benz SLS AMG Walk Around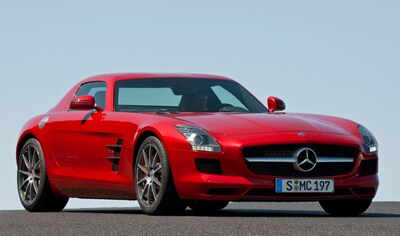 All design is subjective, and we confess that, after having lived with the SLS for three days, we think the design is a success. There is no second side window this time around, the fender gills are horizontal, not vertical, the door handles are much larger, and the hood is much longer, but it all holds together in a unified design.
The aluminum body of the SLS is the first of its kind for any Mercedes-Benz product, with a decklid made of plastic so it doesn't interfere with all of the antennae built into it for radio, satellite radio, cellphone and navigation systems. The decklid also houses a deployable rear wing that can be put up or down via a console-mounted button, but normally rises to its full height at 74 mph and recedes into its housing at speeds below 50 mph, to aid in high-speed stability.
The SLS rides on a 105.5-inch wheelbase, with an overall length of 182.6 inches, 76.3 inches wide and 49.3 inches high. Front track is 66.2 inches and rear track is 65 inches. Compare those numbers to those from the 300 SL: 94.5-inch wheelbase, 178 inches overall length, 70 inches in width, 51.3 inches in height, with a 54.5-inch front and 56.5-inch rear track, at a listed weight of 2815 pounds, some 750 pounds lighter than the new car.
Interior
Being a super sports car, the SLS comes with every convenience imaginable, including Keyless Go, Parktronic, DVD navigation, six-disc CD changer, iPod and MP3 connections, Sirius Satellite Radio, dual air conditioning, headlamp washers, premium designo leather and alcantara interior, and all the usual power amenities.
For such a big car, the cockpit is small and intimate. Like all the SL models that followed after the Fifties, the new one has a limited range of seat adjustment to the rear and, although I wasn't particularly comfortable with my own 6-foot, 4-inch frame slid back and down all the way, the fit was tolerable.
The instrumentation package, the center console and the lower console are all laid out and designed beautifully, and every control knob and switch is close at hand. Two deficiencies we found with the interior are the lack of pull straps on the gullwing doors so shorter people can pull the doors closed when seated, and the complete lack of a dead pedal on the left side of the floor for bracing your body in hard cornering. Other than those two minor complaints, we loved being inside this beautiful car.
The racing-style bucket seats are nicely cushioned and hold your upper body tightly, the column can be adjusted for cruising or racing, and the sightlines are pretty good except for the views blocked by the massively thick A-pillar.